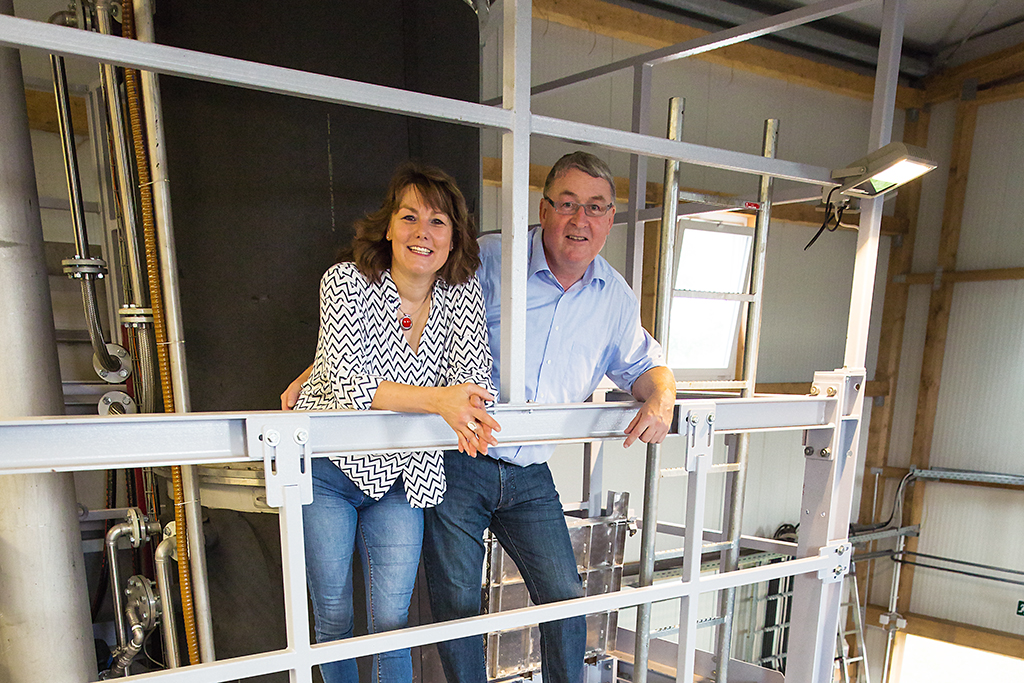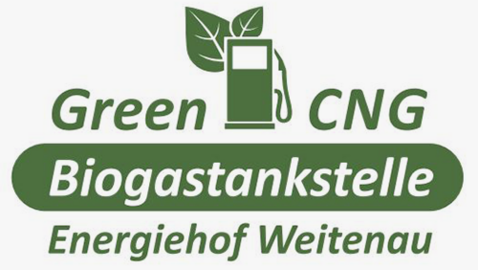 | | |
| --- | --- |
| Position | Eutingen-Weitingen, Baden Wurttemberg |
| Webpage | www.energiehof-weitenau.de |
| Used biomass | Corn, flowering plants, grain dust, cattle and pig manure, horse manure |
| Energy output | Strom, Wärme, Biokraft-stoff (Biomethan), Dünger |
| Annual GHG savings | 3,600 tons of CO2-equivalent |
---
"Through the efficient use of biogas for heat, electricity and biofuel production, farms can actively contribute to greenhouse gas reduction. By cultivating very diverse energy plants – apart from corn also the cup plant and flowering plant mixtures – we do not only cover the demand for biomass but are further able to create food sources for wild and honey bees as well as other flower-visiting insects are created. This is how modern technology, economic aspects, climate protection and nature conservation can and should be combined."
Winfried Vees, farmer and biogas plant operator
---
Above the Neckar valley, the farm of Winfried and Juliane Vees is surrounded by flowering fields with through-grown silphia and various flowering plant mixtures. In addition to corn, these serve as fodder for the farm's own biogas plant. In addition, professional colleagues from the surrounding area are happy to supply their liquid manure and their cattle, pig and horse manure.
Electricity generation is the main source of income of Energiehof (energy farm) Weitenau. Three biogas CHP units (250 kW, 265 kW, 265 kW) are supplemented by solar power (roof system 130 kW as well as an open space system 998 kW).
Since 2015, it has furthermore been possible to refuel vehicles sustainably with biomethane at the company's own filling station. A membrane separation process removes sulfur, carbon dioxide and water vapor from the biogas, which is obtained from the fermentation of horse manure and grain dust (broken grain). Using a bio-methane tractor, a prototype from New Holland, himself, Mr. Vees was able to satisfactorily test the suitability and feasibility of biomethane-powered agricultural machinery. Since the fuel costs of biomethane are about half of their fossil equivalents, this climate-friendly fuel could gain in importance in the future. The prerequisites for this are – as always – a reliable political framework and simplified access rules for small-scale plants.
Winfried and Juliane Vees love sharing their knowledge and experiences: according to the principle of "transparent production", interested parties can find out more about the sustainable production and use of biogas during action days, guided tours and via social media. It was therefore thoroughly deserved that Winfried Vees was named Energy Farmer of the Year at the Ceres Award in 2016.
---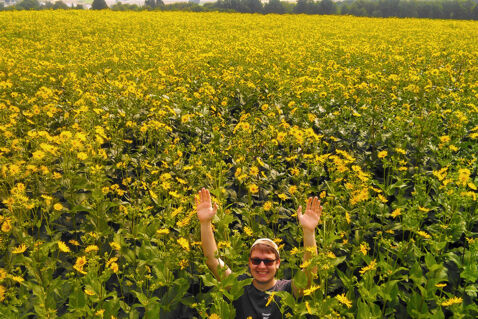 The cup plant (Silphium perfoliatum) is an energy plant with many advantages: Not only does it provide biomass and have a positive impact on soils, but its bright yellow flowers are also a food source for many insects.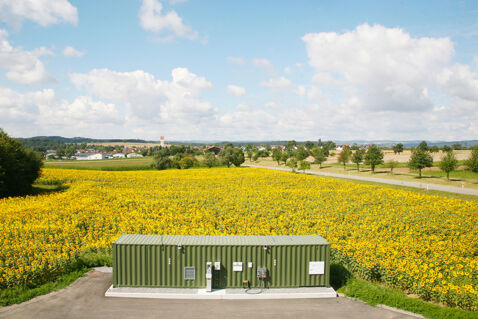 At the biomethane filling station, biogas which has been produced and processed on the farm can be refueled - regionally, climate-friendly and cost-efficiently.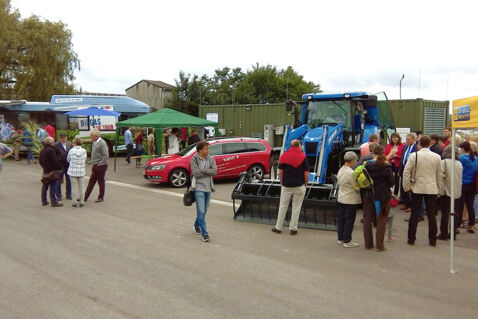 Transparent production - during energy tours and seminars, you can learn more about regional material and energy cycles at the Vees family.
---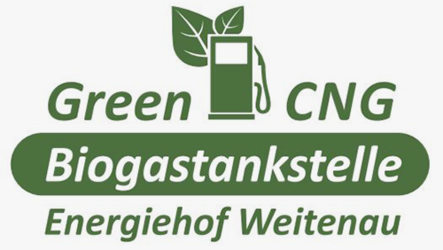 ENERGIEHOF WEITENAU
Eckenweilerstr. 72
D-72184 Eutingen-Weitingen
Photo credits: Energiehof Weitenau