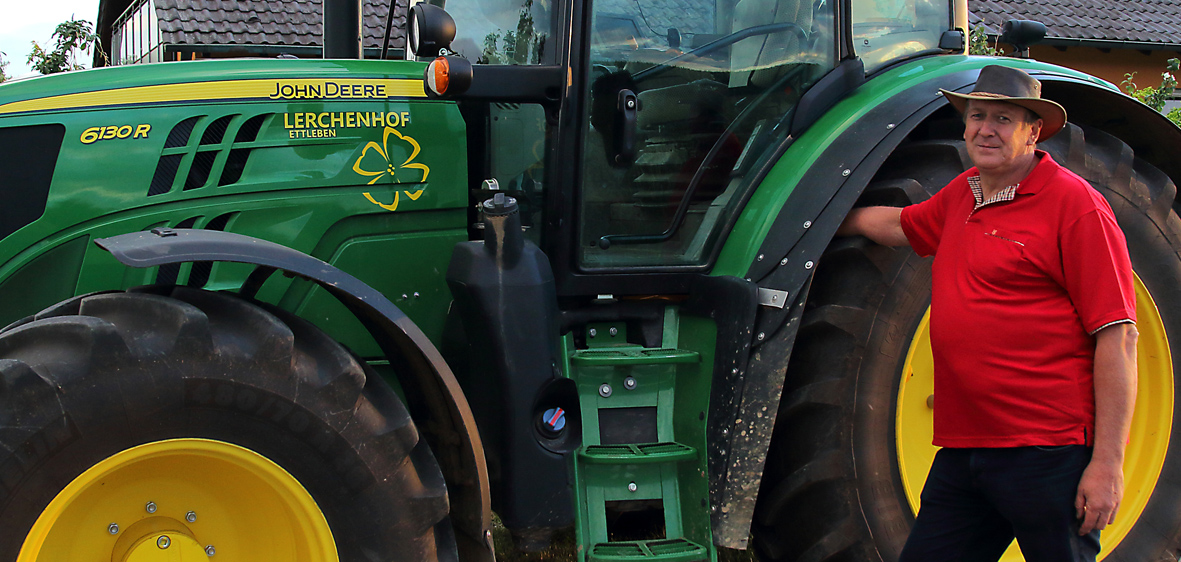 | | |
| --- | --- |
| Position | Werneck, Bavaria |
| Processed oilseeds | Rapeseed, gold of pleasure, hemp |
| Origin of the seeds | own fields; buy in from neighbouring farmers |
| Products | cold pressed edible oils, rapeseed oil fuel according to DIN standard, pressed cakes for cattle and pig feeding |
---
"Sustainable agriculture is defined by closed material and energy cycles. The renunciation of fossil diesel to self-produced vegetable oil fuel for various agricultural operations is of extreme importance for my farm. In this way, I am able to produce regional food independently of international fossil oil prices and protect the climate at the same time. Especially for us farmers, who we live from and depend on nature, this should be the most central task of our work."
Rainer Reuß, oil miller and farmer
---
Rainer Reuß loves to break new ground. His "Lerchenhof" farm is located in the center of Germany, in the Lower Franconian market town of Werneck in the district of Schweinfurt. The region is characterized by agriculture, mainly arable farms and only a few livestock farmers.
Mr. Reuß grows a wide variety of crops on 150 hectares of land. In addition to traditional crops such as wheat, corn, triticale, sugar beets, barley and rapeseed, his fields are also home to unusual crops such as silphia, amaranth, gold of pleasure, hemp and viper's bugloss. Especially with his successful mixed cultivation of gold of pleasure with other crops such as spring wheat, he causes amazement among many of his colleagues.
As diverse as the fields of the Lerchenhof are, so are the products of the affiliated oil mill. Since 1996, the oil mill Oberes Werntal has been processing rapeseed, camelina and hemp into cold-pressed edible oils, fuel, saw chain oil and wood preservatives. The products are marketed exclusively on a regional basis, many private customers and also gastronomes even pick up their cooking oil directly at the farm. This ensures maximum transparency, trust and customer loyalty - who doesn't want to know where their food comes from and how it is produced?
On the family farm, 4 John Deere tractors, a combine harvester, as well as the family cars run on 100% canola oil fuel. His first tractor has been running reliably since 1998 to the present. The latest model is a John Deere 6130 R for single-tank vegetable oil operation. This test machine from the John Deere plant in Mannheim complies with the latest emission standards and runs reliably without any loss of performance or technical problems.
But it is not only in terms of vegetable oil technology that the company is prepared for the future. Mr. Reuß' son has successfully completed his training as a master farmer and will continue to run the business. His final thesis, 'The coverage of the fuel requirement needed for the cultivation of the farm's own land by vegetable oil fuel from gold of pleasure mixed crop cultivation' shows that the Lerchenhof will continue to focus on sustainability in the next generation.
---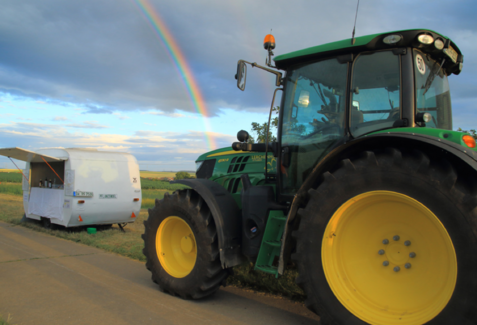 In order to protect the climate, also the greenhouse gas emissions deriving from the agriculture have to be reduced drastically. The Lerchenhof from Rainer Reuß contributes actively to it by using self-made rapeseed fuel in all vehicles.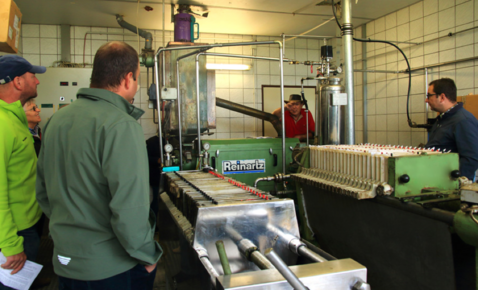 Rainer Reuß explains to visitors how his oil press and the downstream filters work. The oil of his mill is exclusively obtained by mechanical methods without chemical additives and processes.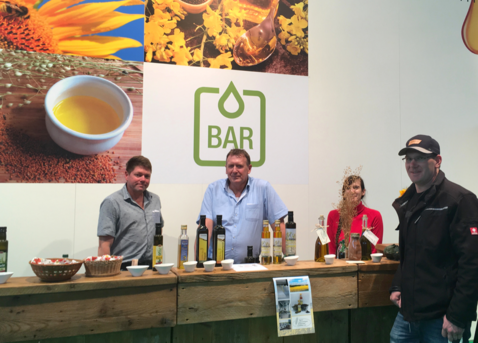 As Chairman of the Federal Association of Decentralized Oil Mills and Vegetable Oil Technology, Rainer Reuß is committed to the preservation of small and medium-sized oil mills. On the International Green Week in Berlin, for example, he discusses with politicians and visitors the sense and the applicability of biofuels.
---
Lerchenhof - Ölfruchtmühle Upper Werntal
Lerchenhof 1
D-97440 Werneck
Photo credits: Ölfruchtmühle Oberes Werntal